Windows XP IWU-Secure Wireless
Last updated
Introduction
This will walk you through setting up your Windows XP computer for the IWU-Secure wireless network.
*** Before you begin ensure that your computer has all necessary updates. ***
Within the Start menu, open the Control Panel and choose Network Connections.
Right click on the Wireless Network Connection and select Properties

.
Click the Wireless Networks tab.
NOTE: If there is no Wireless Networks tab, follow these steps.
Close this window.
Go to Control Panel.
Go to Administrative Tools.
Go to Services.
Scroll down to the Wireless Zero Configuration service.
Right click and select Start.
Return to Step 3 in the main instructions.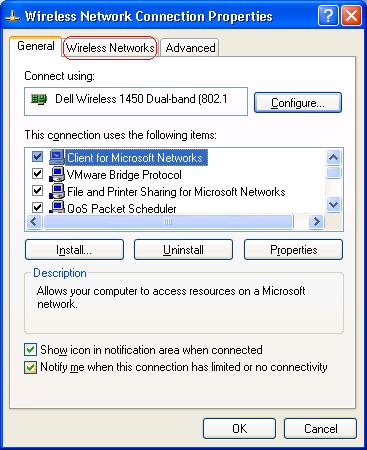 Click the Add button.
NOTE: If the Add button is grayed out, then make sure that the Use Windows to configure my wireless network settings box is checked
.
Enter "IWU-Secure" for the Network name (SSID).
Select WPA2 for the Network Authentication.
Select AES for theData encryption. (If that option is unavailable select WPA and TKIP.)
Click the Authentication tab.
Select Protected EAP (PEAP) for the EAP type.
Uncheck the box next to Authenticate as computer when computer information is available.
Click the Properties button.
Uncheck the box next to Validate server certificate.
Check the box next to Enable Fast Reconnect.
Click the Configure button.
Uncheck the box next to Automatically use my Windows logon name and password

.
Click OK 4 times, then after a few seconds the following bubble should appear. Click on the bubble.
Enter your IWU username and password. The domain may be left blank. Click OK.
After you click OK you should see a balloon like this. You are now connected securely to the IWU Wireless Network.