Office 365 for Students
Last updated
Overview
Indiana Wesleyan University students are eligible to install the latest version of Microsoft Office via their Office 365 subscription.
Please Note: If you have previous versions or a trial version of MS Office on your system, you must uninstall them and reboot before installing the free version to avoid potential conflicts.
Steps
1. Login to your student e-mail account from the MyIWU portal.
2. In the top left corner of your e-mail, click on the Office 365 tab.


Please note, if after selecting the 'Office 365' link in step two you receive a note stating 'Skip to message' as shown below, you must then click the black border just slightly below the 'Skip to message' note. Depending on the browser being used, you may not encounter the 'Skip to message' note.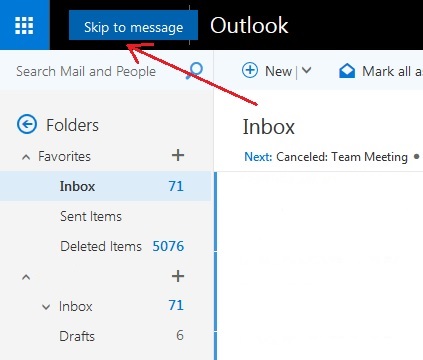 3. Select the 'Install Office Apps' link followed by the 'Office 2016' selection.
4. Perform any Save, Run, or Allow changes actions necessary when prompted.
What's Next
You will then see an automated download and installation process. It is advisable to wait until the total installation has completed before opening any Office applications, even if Microsoft allows you to do otherwise.