Video and Audio Recording Equipment
Last updated
HD Camcorders
Canon HF-R Series
Vixia

HF-R600

Vixia

HF-R700

Vixia

HF-R800

Vixia Mini X
The HF-R600's range seems virtually endless with a 57x (32.5–1853mm) Advanced Zoom that's incredibly steady, even if you shoot while walking, thanks to Canon's SuperRange Optical Image Stabilizer. Your video has never looked so lifelike: the Canon 3.28 Megapixel Full HD CMOS Sensor and DIGIC DV 4 Image Processor capture video directly to a (provided) removable SD memory card at 1920 x 1080 resolution for an outstanding level of detail. The VIXIA HF-R600 camcorder provides 1080/60p recording in MP4 (35 Mbps) and AVCHD Progressive (28 Mbps), so even the fastest‐moving subjects are captured with smooth clarity. Control is fast, easy and intuitive with the big 3.0- inch capacitive touch panel LCD. And the camcorder is packed with features to make capturing your best video easy.
The Canon HF-R700 and the Vixia Mini X are very similar in available settings and recording quality, but they are very different in form factor.
The Mini X has a non-standard form factor, optimized for use without a tripod. It has a height adjustable foot, similar to what a projector has, that allows precise vertical aiming. It has a capacitive touch panel LCD on the top-back, which can be angled forward or backward to provide preview screen access, whether you are in front or behind the camera.
Some prominent features of the Mini X include the abilities to:
Change the field of view, from a fish-eye-like ultra wide angle, to a close up center view;
Record the best sound for your shooting situation, such as a business meeting or a music performance;
Shoot time-lapse video or slow motion video.
set white balance and optimize the exposure
Use your smart phone or tablet as a remote control while recording, and to access and playback your recordings in the camcorder
wirelessly transfer recordings to your mobile device and upload them to the web
connect the camcorder to your home network and wirelessly stream your recordings
For more information, check out the instructional video for the Canon Vixia Mini X
GoPro Hero 4
Use the features of the GoPro HERO4 Camera to control, view and share with built-in Wi-Fi + Bluetooth. Get enhanced connectivity to
the GoPro App to control your camera remotely, view your photos and videos and share your favorites. The GoPro App also makes it easy to watch the GoPro Channel on your phone or tablet. Use HiLight to tag your best moments in a video. This lets you mark key moments while recording so you can quickly find your best clips later for easy playback, editing and sharing. You'll never miss an epic shot by being able to power on and record automatically with the press of a single button thanks to QuikCapture mode. Whether you're shooting the Milky Way or a campfire hangout, capture stunning images of ultra low-light scenes with customizable exposure settings for single and Time Lapse photos. The HERO4 features a powerful new audio system complete with a cutting-edge microphone, HERO4 cameras capture clean, high fidelity sound with nearly 2x the dynamic range.
Nikon D3200, D3300, D3500
Records video and still pictures
See more information below, under Digital Cameras.
Digital Cameras
Canon Powershot

a590
The PowerShot A590 IS will astound you with its power-packed performance and impressive value. It's got 8.0-megapixels, a 4x optical zoom, an Optical Image Stabilizer and a large 2.5-inch LCD. A range of shooting modes - from manual to automatic including Canon's new Easy Mode - make picture-taking carefree. A DIGIC III Image Processor with Enhanced Canon Face Detection assures natural-looking results, while Motion Detection Technology reduces blur.
Nikon COOLPIX L26
So easy to use—just turn it on and shoot! An easy-to-understand menu makes the COOLPIX L26 an ideal camera for beginners or anyone looking for better pictures. Its 5x optical Zoom-NIKKOR glass lens gets the shot you want, from wide-angle to telephoto. Make family and friends look their best with Nikon's in-camera Smart Portrait System, which automatically retouches and enhances photos. Want a movie clip? Make HD (720p) movies at the touch of a button. Even take great close-up (macro) shots less than 4 inches away.
Nikon D3200, D3300 and D3500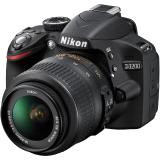 The black Nikon D3200 DSLR Camera with 18-55mm is a professional imaging machine in the truest sense. It captures stunning high-resolution JPEG and RAW still photos and HD 1080p video via its 24.2 MP DX-format CMOS sensor. Enjoy superior color and sharpness, make gorgeous adjustments and perform creative cropping without any loss in sharpness. The camera's EXPEED III image processor makes optimal use of the 24.2 MP sensor, producing fine tonal gradations and exceptional color fidelity. The large 3.0" (7.6 cm) 921K-dot LCD allows bright, clear framing, playback, menu navigation and Guide Mode settings. Two lenses are included with the Camera when checked out.
The Camera kit includes an SD card, a USB compatible card reader, and a USB-to-USB micro adapter cable, to allow connection of the camera to a PC or TV. The camera requires alkaline or lithium AA batteries.
Audio Recorders
Sony IC Recorder
(Digital Audio MP3 Pocket Recorder)
built-in microphone

jack for optional microphone

built-in speaker

jack for headphones

USB jack for connecting to a PC to transfer recorded audio files

uses 2 AAA batteries
microSD card slot, for optional storage
comes with USB cable
TASCAM DR-40
(Digital 4-Track Recorder)
adjustable built-in stereo microphone

Compact design

records to SD/SDHC media
WAV/BWF and MP3 recording
XLR and 1/4" combo inputs (2)
Phantom Power
USB 2.0 connector, to transfer files to a Mac or Windows PC
Integrated speaker
3.5mm headphone, line output jack
AA battery, AC, or USB powered
Can record up to 15 hours when using 3 alkaline AA batteries
Integrated tripod mount
automatic or manual level setting
Audio optimization options: audio limiter, switchable low-cut filter, peak reduction feature
2 seconds of pre-recording (before you hit the record button)