How to set up auto connection to a network drive
Last updated
Answer
1.) Click on the Finder icon to open a Finder Window.

2.) Connect to the Drive that you want to auto connect at Login.
(See: How to Connect to a Network Drive for instructions to connecting to a drive.)
3.) Open System Preferences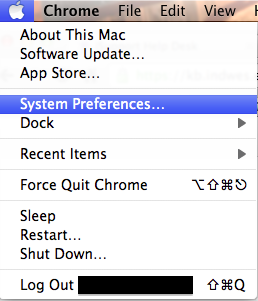 4.) Select Accounts(pre Lion) or Users and Groups(Lion).
5.) Select Login Items Tab for the user.
6.) Click on the "+" symbol.
7.) Choose the connected Drive and then the Folder you want it to open.
8.) Choose Add.
Things to be aware of:
When you restart the system will attempt to connect to the drive. It will only connect if you are connected to the Network the drive is on.
(click for details)
Callstack:
    at 

(Apps/My_Computer/Apple_OS_X/Apple_OS_X_User_Guide/How_to_set_up_auto_connection_to_a_network_drive), /content/body/div[2]/pre, line 2, column 1