Conference Room View: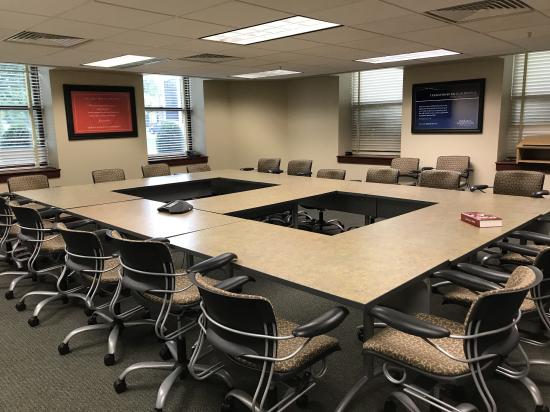 Display
This conference room has one display:
Wall mounted 65" flat panel TV in the corner of the room
Sources
There are two connections for video sources which can be shown on the display:
| | | | |
| --- | --- | --- | --- |
| HDMI cable connected to a laptop on the Conference table | This HDMI cable should always be plugged into the provided laptop. | Press the icon labeled "Floor Box" to show this source on the TV | |
| HDMI cable extending from wall plate near the TV | This cable is available to plug in a mobile device | Press the icon labeled "Wall Plate" to show this source on the TV | |
A ring of adapters is attached to both HDMI cables, allowing connectivity to laptops, tablets and phones with these standard connections:
DisplayPort
Mini DisplayPort
USB-C
Audio
Ceiling Speakers
Ceiling mounted microphone array (requires USB connection to a laptop, to use this feature)
Volume control using the Extron touch panel, or the laptop videoconferencing software volume controls
Videoconference
Connection for Video conferencing system is the USB cable on the table, near the control panel.
lnterfaced through a wall plate on the floor
Connects the ceiling microphones, ceiling speakers, PTZ video camera, and echo-cancelling signal processing to the laptop computer.
Recommended use with Skype, Zoom, Adobe Connect, Hangouts, etc.
Resolution
For optimal results, please set your laptop's resolution to 3840x2160 (or 1920x1080) Aspect Ratio 16:9
Control
Extron Touch Panel controller - used for selecting:
the laptop source (wall HDMI or table HDMI)
the camera preset orientation
the Pan, Tilt, and Zoom of the camera orientation
the volume of the speakers
Microphones: ON of OFF
System Power: ON or OFF
Click here to view instructions for the technology in the Growth Room.