Palo Alto VPN Windows Client Install
Last updated
Below are steps for installing the VPN client that IWU currently utilizes.
Please note that some laptops may already have the Palo Alto GlobalProtect VPN program installed.
To check whether it is already on your computer first look for its icon at the bottom-right of your computer (as shown in the first picture below). If you do not see the icon there, click in the 'Type here to search' box at the extreme bottom-left of your screen and type in 'GlobalProtect' but do not press 'enter' on your keyboard. If you then see something listed that says 'GlobalProtect App' in your menu you can simply click on it to start GlobalProtect.
Essentially, if you see the GlobalProtect icon in the bottom-right of your screen or can find it by searching, as detailed above, it means the program is already installed and as such you can skip the installation instructions, though you will still need to read through the section titled 'Setting Up and Using GlobalProtect'.
Installing Palo Alto Global Protect Client
Search for the "Application Catalog" on your computer
Find 'GlobalProtect' in the list of programs and install it. For a more detailed breakdown of the installation process please see the following article, How to Install Software from the IWU Application Catalog
Using GlobalProtect
Once GlobalProtect is installed select the white arrow at the bottom-right of your screen followed by the GlobalProtect icon. Or search for "Global Protect" in your start menu.
Click the Connect button.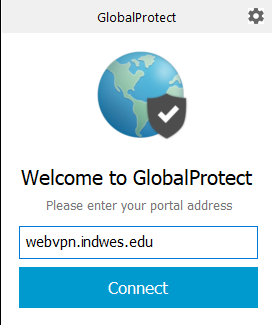 4. Enter your credentials when prompted and select 'Sign In'.
5. When GlobalProtect says "Connecting" you'll receive a call or "push" notification to your mobile device from Duo. It is helpful here to note that the GlobalProtect program itself will not indicate anything about it utilizing Duo.
Note: If you do not accept the call or push notification from Duo quick enough (via your mobile device or appropriate landline), GlobalProtect will prompt for your username and password again as if nothing had been entered. To connect to GlobalProtect you must utilize Duo.
Be sure to check out the KB on Duo Security if you have any questions on setting it up.