My writing lab registration instructions

To register for your version of MyWritingLab, you will need:
Course ID code. This can be found in Blackboard under these instructions.

A student access code. This is located in the front of your textbook.

A valid email account. Use your Indiana Wesleyan student email account.
How to register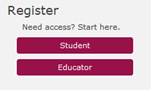 Click "Yes, I have a Course ID"

This course ID will be located in your Blackboard Course Materials.

Click "Go" (The box should turn green with a green checkmark)
You should now see your cohort listed in the "Your Course" box

Now you will Create a Pearson Account

Click on Create

Fill in the Information required (Use your IWU email account)

Read the Pearson License Agreement and Privacy Policy and click the I accept box.

Click on Create Account



Select the Option for Use an Access Code

You may find your access code located in the front of the textbook.

Click Finish

You should then see a screen saying "You're Done!" (Be sure to print this page for future reference.)

Click on Home