Overview
Beard Art Center room 206 is a specialty art classroom. The students sit on chairs at tables, and the instructor has a wide, mobile teaching station.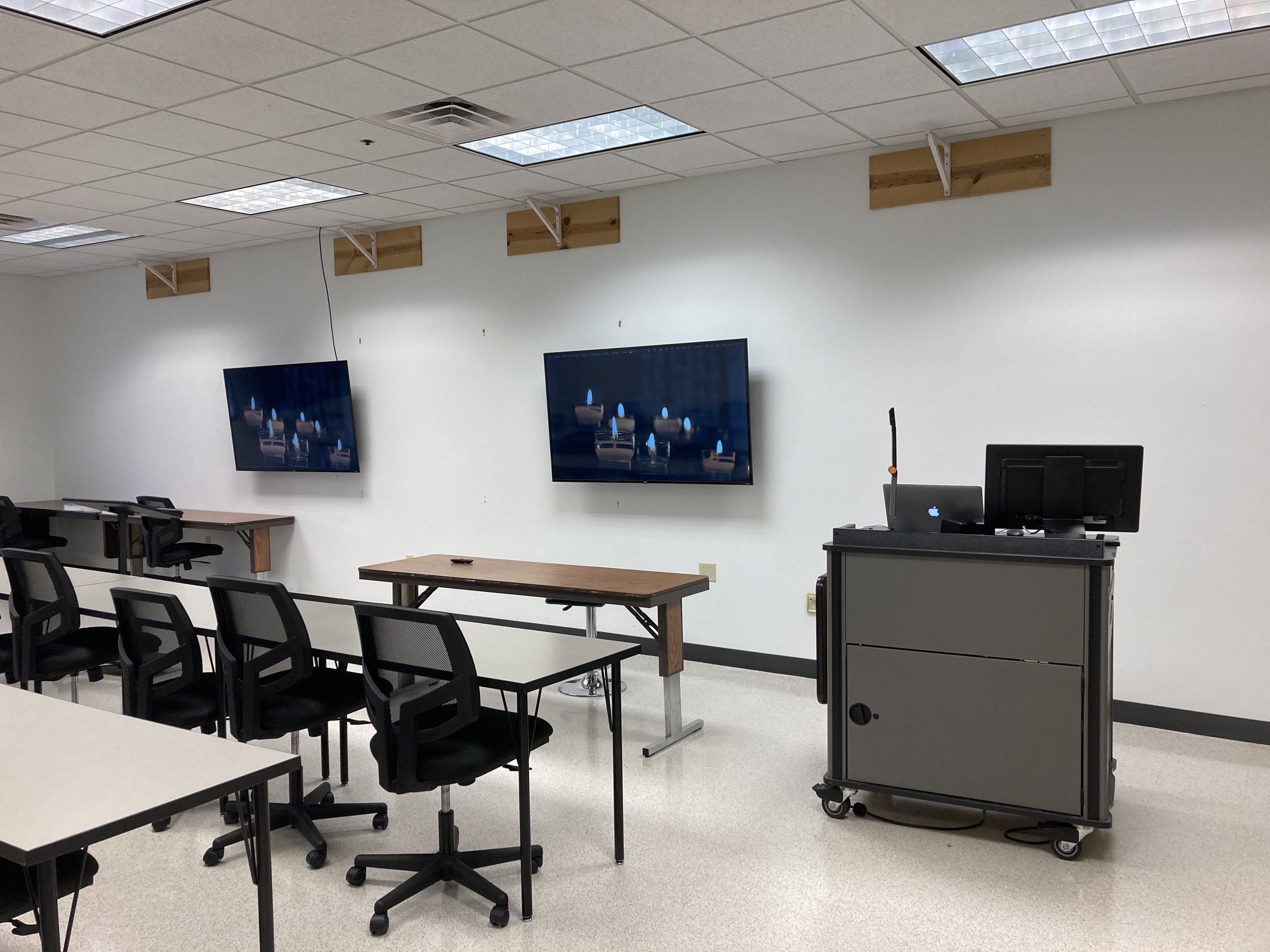 Displays
Two wall-mounted flat panel TVs display identical images at the front of the room.
The TVs must stay on HDMI input 1.
Sources
HDMI cable with adapter ring, for use with mobile devices
Desktop PC
Whichever device is connected and powered on, will be displayed on the TVs.

When a laptop is connected to the HDMI cable, the TVs will switch to this input.
When a laptop is disconnected from the HDMI cable, the TV will switch back to the desktop PC input.
If the PC is in sleep mode, or turned off, and no device is connected to the HDMI cable, the TVs will show a "no input detected" message.
Resolution
Please set your laptop resolution to 1080p (1920 x 1080) for optimal viewing at all seats. The flat panel TV's native resolution is 4K. If all viewers are seated within 10' of the displays, the optimal resolution is 4K (3840 x 2160). Aspect Ratio 16:9
Control
Please use the TCL remote control to turn on and off the flat panel TVs. If only one display is needed, you may turn on only one TV. Make sure both TVs are turned off when leaving the room.
Audio
Please use the TCL remote to adjust volume. The sound will eminate from the TV speakers, if they are powered on.
A separate PC speaker system is available on the teaching station, with a 1/8" plug. A volume control and on/off switch are in-line with the cable that has the 1/8" plug.
Considerations
Ceiling lights are wired in banks, so the front bank, nearest the displays, can be turned off, for improved brightness and decreased glare on the flat panel TVs.