Ott Hall Classroom 157
Last updated
OHSN Classroom 157
Display
This classroom has two laser projectors, capable of showing different visual content, and simultaneous audio.​
• A - Short Throw Interactive Projector
o Mounted from Wall above Whiteboard/Chalkboard
o Projects onto Whiteboard/Chalkboard
• B – Ceiling Mounted Projector
o Projects onto Manual Screen in corner of the room
• Resolution: 1280 x 800 (16:10 aspect ratio)
To show content from two different sources, tap on the touchscreen and select the Arrow pointing upwards. This will send that selected source to the corner screen.
Sources
The teaching station will provide multiple sources which can be shown on one or more of the displays:​
• Laptop – HDMI
o countertop at teaching station
o Laptop connection located beneath the projector
o USB jacks, connected to desktop PC (in cable cubby)
• Document Camera
• Wireless mirroring (casting) from a mobile device, using Airplay, Miracast or Chromecast, without requiring an app.
Audio
• Ceiling Speakers
• Volume Control on bottom ribbon of Control Panel
- Volume Up button
- Volume Down button
• Connection for Adobe Connect Video Conferencing Cart System located in the rear of the room
• lnterfaced through a double-ganged wall plate on the opposite side of the room from the instructor.
Control
• Interactive flat panel display controls the WolfVision Cynap, located at the counter in the southeast corner of the room.
Rack
• Located in the cabinet in the Southeast corner of the room.
Resolution
• For optimal results, please set your laptop's resolution to 1280x800. Aspect Ratio is 16:10.
Classroom View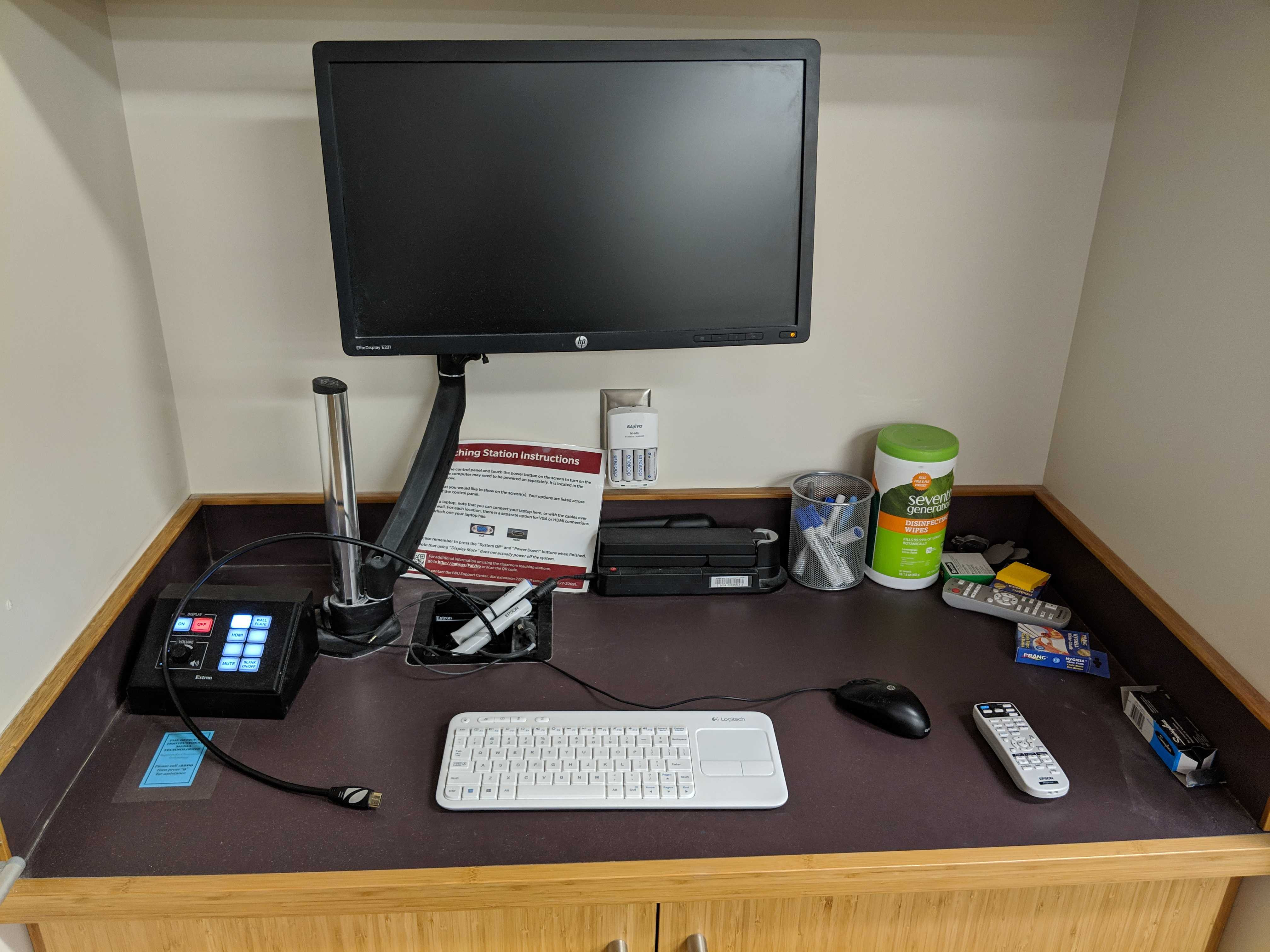 Can I show different sources on different displays?

To show content from two different sources, tap on the monitor and then, within the control ribbon beneath the desired source, select the UP Arrow, to send the selected source to the corner screen.