Video Conferencing Cart
Last updated
Video Conferencing Cart
This mobile cart can be reserved through the campus room registration system, (25Live) or by contacting Conference Services, or your Site Manager.
The cart contains a Pan/Tilt/Zoom webcam, an array of wireless microphones, and a flat panel preview monitor.
The cart can only be used in a classroom that has the proper infrastructure installed, connecting to the classroom's Desktop PC.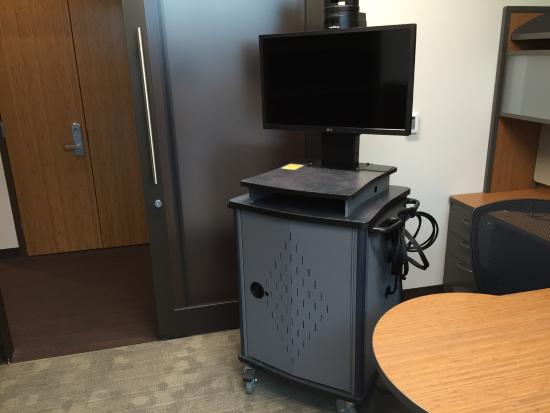 How to Connect
The cart has three (3) cables that must be plugged in to function correctly.
The power cable must be plugged into the nearest wall electric outlet. Note: If you hear beeping, that means the wireless microphone charger is not receiving power.
The Audio Cable must be plugged into the XLR jack.
The Network Cable must be plugged into the RJ-45 jack labeled Video (Important! Do not plug this into any other network jack!).
Next, the desktop PC must be powered on and logged into a user account that has permission to install USB drivers. If you encounter problems with the driver installation that requires an administrator's password, please contact the Support Center.
Log into your video conferencing or video chat application to test and use the video camera and microphones, which will be detected by the computer as a connected webcam.
Compatible Rooms
The following locations are compatible with the Video Conference Carts:
Ott Hall of Science and Nursing, all classrooms and labs (excluding Gross Anatomy lab)

Burns Hall of Science and Nursing, 120A, 120B, 220, 222, 230, 336

Noggle Christian Ministries Center, Worship Lab 134

Indianapolis North Education Center, all classrooms with Desktop PCs

Cincinnati Education Center, all classrooms with Desktop PCs

Elder Hall, all classrooms with Desktop PCs (except 127/129, 143)