BHSN Classroom 230
Last updated
Burns Hall of Science and Nursing Classroom 230
Display
Sources
The teaching station will provide multiple sources which can be shown on the front projection screen:
HDMI

cable

for a mobile device (

Laptop,

tablet or smart phone)

Wirelessly cast/mirror mobile device, using Airplay, Miracast, or Chromecast (no apps required)
Desktop PC

USB Document Camera
USB webcam

Document Camera
Digital Whiteboard
Browser
Audio
Ceiling Speakers

Volume control on interactive monitor
Control
Touch the interactive monitor to begin your session or to wake it from sleep mode: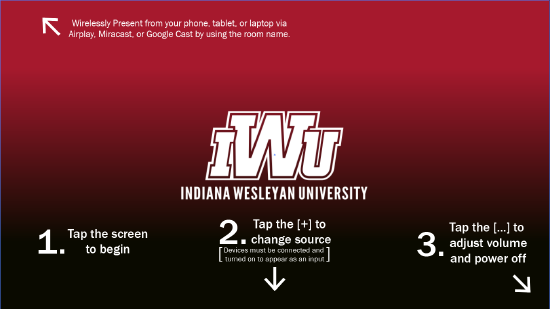 All controls are made using the interactive monitor on the teaching station.
Find further instructions here.
The displays will turn off after a period of inactivity. If this happens before the end of class, touch the monitor to relaunch a session.
Equipment Location
Located in the cabinet in the corner of the room
Instructions
---
Turning on the System
If the monitor is turned off, tap the screen to wake up the system and turn the projector on.

If the monitor and projector do not turn on, open the front door of the cart and press the white power button on the Cynap device, to make it turn green.

Turn on, and connect your desired Source using the HDMI cable or wirelessly connect.

If you want to use the provided desktop PC, wiggle the mouse, or press a key on the keyboard to wake the PC from sleep mode.

When the PC is on and awake, it will automatically appear on the display.

When the laptop or tablet is connected to the teaching station's HDMI cable, it will automatically appear on the display

If you want to select a new source, Tap the screen to show the control ribbon; then tap on the yellow [+] button to be able to select the desired source.
Turning off the System
To turn off the system:

Tap the screen and click on the [...] icon in the bottom right corner.

Tap the End Presentation button and choose Power Saving from the options.

Please leave the PC, monitor and control system powered on. This way,

it will enter sleep mode, and receive any necessary security updates, and a simple tap to the monitor will allow the next user to quickly start up the system again.
Microphone
Microphone options within a video conference or lecture capture include the Logitech Brio webcam. In Zoom or Teams, select one of these microphones.
Camera
Webcam: Connect the Logitech Brio webcam, with USB extension cable to the front USB jack of the PC. Open the Logitech software on the computer, and position the microphone boom stand with gooseneck. Use the Logitech software to Zoom the camera in or out.

Also in Zoom or Teams, the Logitech Brio can be selected as a microphone input.
For advanced instructions of the new standard classroom technology, click here.
Room View