Recording and Accessing Teams Meetings
Last updated
Recording and Accessing Teams Meetings
---
How to Record a Teams Meeting
Teams meetings can be recorded in just a few clicks. If you want to record a Teams meeting that you are in...
Click on More.
Click Record and transcribe.
Click Start recording.
Warning:
Please note that recordings in Teams will expire after 60 days. We recommend downloading the recording if you want the video for longer than 60 days.
How to Find a Teams Meeting Recording
A Teams meeting recording will be available after the meeting was scheduled to end (so not necessarily when it actually ends).
If you were part of a scheduled meeting...
Find the meeting on your Teams Calendar and double click the meeting to open it.
Select the Details tab.
You will find available recordings here.
If it was a channel meeting...
Choose the Chat tab on the left-hand side of Teams.
Select the conversation containing the meeting.
You will find the recording within the conversation.
You can also select More actions
on the meeting recording and choose Open in OneDrive if it was a chat meeting, or Open in SharePoint if it was a channel meeting.
How to Download a Teams Meeting Recording
To Download a Teams Meeting recording, you need to open the recording in Microsoft Stream.
If you selected the recording from a Calendar, there will be a Open in Stream button.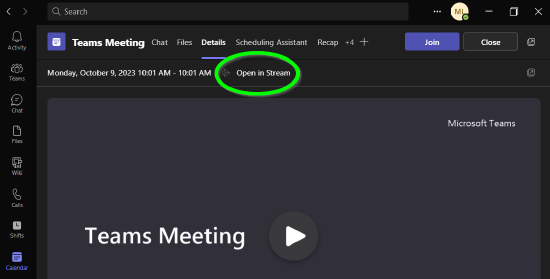 If you are in a conversation, you will need to click on the three dots next to the recording then select Open in Stream.
Once you have a recording opened in Microsoft Stream, you can choose download from the three dots at the top.
How to Share a Teams Meeting Recording
Once you have a recording open in Microsoft Stream, there will be a Share option on the top right-hand side where you can choose to get a link to share with others.
---