Functionality Statement for standard classroom
Last updated
Before a classroom AV system design is approved and funded, a functionality statement is created, for which any solution should meet all requirements.
Functionality Statement
The classroom will have a display which can be seen by all in-room participants

If the chosen display location cannot provide an image that is suitable for all participants, than additional displays may be added for clearer sight lines, and large enough to discern text and graphs on the display.

The image on the display will be a widescreen, HD format, of UXGA or 4K resolution

The brightness of the image will take into consideration the ambient lighting of the room, with lighting fixtures turned on, and with the brightest amount of light that may pass through the windows.

The audio will be reinforced by installed speakers.

The speakers will be capable of producing sound levels appropriate for the watching of an instructional video or conducting a video conference. It will prioritize clarity of voice for all audience seats

The speakers may be installed in the ceiling or walls, or built into the display.

The audio level will be controlled by a knob or remote control with clearly marked volume up and down buttons, as well as a mute button.

Any connections to the display will not pose a tripping hazard. Any wired connections that must cross a walk-way will be within floor, ceiling, walls, or under temporary cable covers.

Options for wireless video and audio signal transmission will be provided, allowing users' mobile devices to cast their content to the display without the requirement of signal cables or installed apps.

The primary wired source for users to connect to the display and sound system is an HDMI cable which will be provided.

The provided HDMI cable will have an adapter ring, allowing compatibility with the most popular AV signal connector types (like, but not limited to: DisplayPort, Mini Displayport, USB 3 Type-C).

When users wish to connect their legacy devices to the system, they may need to provide their own adapter to connect their device to the industry standard HDMI cable we provide.

A desktop or laptop PC will be provided for users who do not have one of their own.

The source computer will run a Windows OS, and include one or more of the following input devices:

a keyboard and mouse;

a wireless keyboard with trackpad;

an interactive surface with soft keyboard and USB slot for wireless mouse;

BlueTooth connectivity, for paring with users' input devices.

The source computer will have a local display for previewing the content before showing it to the audience.

Optional sources include (at extra cost):

BluRay player

Document Camera

Audio playback equipment (CD, MP3)

Camera or video feed.

Optional outputs include (at extra cost):

video encoder/recorder, sending camera feed, microphone feed, and PC image to the user's flash drive;

streaming video out from switcher to other switchers or PCs;

streaming audio out over Dante network;

mirrored output display or audio, within same room;

matrixed output for multiple displays showing differing content

A control system focused on a simplifying the experience of a user who needs to:

power on or off displays

select or mute/blank a source device

change or mute the volume

the control system will have backup access (wired, wireless, remote access via network)

A piece of AV furniture will provide sturdy surface for the placement of a users' laptop and notes, at a standing height, or a sitting height.

The furniture will include a power receptacle into which a computer or mobile device charger can be plugged.

If the furniture is on wheels, the furniture may be moved a limited distance that is within the length of the provided tethering (network, AV signal, and power) cables. Moving too far will damage the tethering cables, and disable the system.

Other items which may be included on the surface, include:

a USB document camera;

a microphone for sound reinforcement;

a webcam for video conferencing;

a control system interface (power, volume, source selection);

the display monitor of the desktop computer, and keyboard and mouse; or a laptop;

wireless remote controls for a display or source (BluRay player, PTZ camera).

Regulations:

Wireless microphones' channels and operational frequencies will be selected and coordinated by IMT, in cooperation with SL&M, and any other major users of wireless microphones on or near campus.

Installed computers are provided and supported by IT's Desktop Configuration Management team, who will determine any changes to features, size, shape, connectivity and access.

the network to which the devices connect, both wired and wireless are provided and supported by IT's Network Services, who will determine any changes to features and access.

ADA, and Fire Safety inspection have issued guidelines and may inspect and recommend changes to access, specifically in regard to the safety of users of the space. Specifically:

TVS may not protrude 4" or more from the wall in an egress;

Power strips are not permanent solutions, and should be removed from pathways when not actively in use.

Cord covers should be used to prohibit cables causing tripping hazards.

Lighting and speech levels must be suitable for persons of all abilities. Supplemental technology must be compatible with existing equipment to correct or augment a learning environment for the hearing or sight impaired.

Electrical and HVAC installations and system modifications will impact components of a meeting space AV system. Regulated temperature (including airflow and particulate density) and voltage are key to the proper function and lifespan of equipment. Deviation from this standard may lead to damaged equipment and disabled systems.

Considerations

When designing and scheduling the room, please consider the intended function of the room.
A classroom will likely be used for meetings and conference guests. A lab may not be used for those functions.
A flexible room, with movable seating and tables, will be better equipped when it has multiple displays on different walls, and not just one display at the front of the room.
Examples
The following two examples provide a model on which to base future project plans that meet the required functions that are to occur within that space. While it is true that some spaces will have multiple uses, the academic use is the primary use case.
Example 1: National and Global standard classroom
Displays
These classrooms have a technology-equipped teaching station, with one display.
Ceiling Mounted Laser Projector

Projects onto Manual Screen on the front wall of the room, covering a portion of the whiteboard
Sources
The teaching station provides multiple sources which can be shown on the projection screen:
Audio
Audio from the teaching station's sources will be heard through an installed sound system, at every student seat in the room.
Ceiling Speakers

Volume control knob at the Teaching Station
Resolution
Please set your laptop's resolution to 1920 x 1280 (16:10) for optimal viewing. This is the projector's native resolution.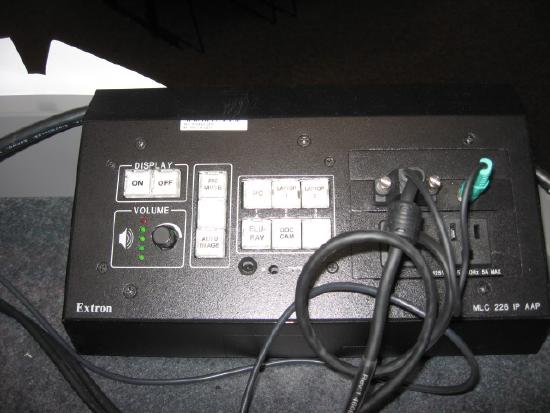 Find further instructions here:
Standard Teaching Station Control
Example 2: Noggle Christian Ministries Worship Lab
Display
The Worship Lab has a teaching station with one display.​
Laser Projector
Projects onto Electric Screen at the front of the room
Sources
The teaching station provides multiple sources which can be shown on the display:​
Wirelessly cast from a Mobile Device, anywhere in the room

Desktop PC

- located

in the rear of the classroom. A wireless keyboard and trackpad allows a presenter to advance slides and control the PC from the front podium
HDMI - for laptop, BluRay player or Newline Interactive Flat panel. Located in the rear of the classroom
This room also has video recording equipment that can be controlled at the back of the room. Bring a USB flash drive to store the recording.
Resolution
For optimal results, please set your laptop's resolution to 1920x1280 Aspect Ratio 16:10
Furniture
The front of the room has an oak lectern, with an internal shelf and slanted top surface.
Integrated technology includes a gooseneck microphone.
In the rear of the room is a black, fabric covered cart, with slanted top surface